Lightweight Performance — Mitsubishi Golf has long been a leader in the premium, lightweight golf shaft category. With VANQUISH™ our engineers were determined to leave no stone unturned in the challenge to create the best-performing, highest-quality, premium performance lightweight shaft. A collaborative effort between Mitsubishi Chemical Group's teams in Japan and California, the new brand carries on MCG's lightweight shaft legacy – established with brands like Bassara and Grand Bassara – and solidifies its position as a leader in premium, lightweight shaft performance.

VANQUISH™
LAUNCH
MID+
SPIN
MID
FLEX

PROFILE

MED+
SOFT
SOFT
BUTT
MID
TIP
MLAB RESULTS
In robot testing, VANQUISH's spin axis showed an improvement of a full degree in comparison to our in-house control shaft, leading to more consistent and tighter downrange dispersion, attributable to a uniquely fortified tip section. Robot-based test was comprised of an in-house control shaft vs. Vanquish 50S. Control shaft was used as the baseline at 90 MPH swing speed with an Attack Angle of +2 degrees and Path of 0.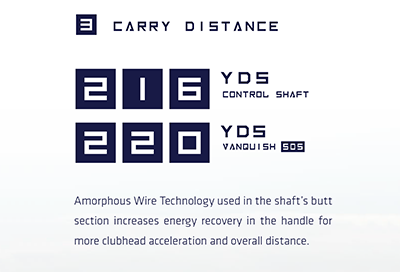 CORE TECHNOLOGIES

Amorphous Wire Technology — VANQUISH™ uses Amorphous Wire Technology in an all-new application. Instead of using it in the tip section, amorphous wire is used in the butt section for the very first time. This amorphous wire's elasticity increases the activity in the handle of the shaft to maximize ball speed and club head acceleration.

Super Low Resin Content Prepreg — Prepreg containing as low as 20% resin content is used to achieve lighter weight and higher carbon density for maximum feel without diminished strength.

High Mod Carbon Fiber — With super elastic, amorphous wire used in the butt section of the shaft, Mitsubishi Chemical used exotic 46 Ton and 40 Ton prepregs in full length applications for added strength and lower torque: a must in a shaft with an active handle section.

Uniquely Fortified Tip Section — Mitsubishi Chemical engineers used an all-new material application to provide additional tip stability. By optimizing the angle of the outer layer material in the tip section, we are able to create increased stability throughout the swing leading to more consistent center-face contact.

Consistent Feel Design — Minimizes variance in butt OD, weight and balance point throughout the entire range, providing similar feels between all weights and flexes for maximum ease of fitting.

Precision Crafted Design — Mitsubishi Chemical manufacturing processes achieve +/-1 gram and +/-1 CPM in weight and frequency in VANQUISH™ to create the tightest tolerances in our lineup.



In aviation, 'v-speeds' are the standardized speeds for each step of safe and successful flight. With Mitsubishi Golf's new VANQUISH™ Series, #VSPEED represents an especially robust technology platform of six core tenets designed to support a singular outcome: the ideal shaft upgrade for golfers looking to add ball speed.